Whenever we have visitors at the building, we inevitably get asked the question, "what's with these figures on your meeting rooms?" What they are referring to are the bright orange humans in strange positions… with even stranger names underneath. If you haven't had the chance to visit us (and you're welcome to come hang out), you should take note of our conference room names.
A couple of years ago when we moved to a new office building, we decided to get creative naming the rooms in our calendar software. The idea derived from our love of ping pong, as it's sort of a big deal at our office. We have a custom wooden ping pong table in the center of our common area that gets used multiple times throughout the day. Almost everyone at the office has their own paddle which makes for some very competitive matches.
While I might not be the best ping pong player in the office, I've certainly found myself at the center of more crazy moves and catch phrases than anyone else. Our conference room names all started when I began pinching the ping pong ball in midair between my fingers and thumb, between points. After a while, everyone else started to innovate on this little "pinching" habit. Others started to do their own pinches, the pinching game was on.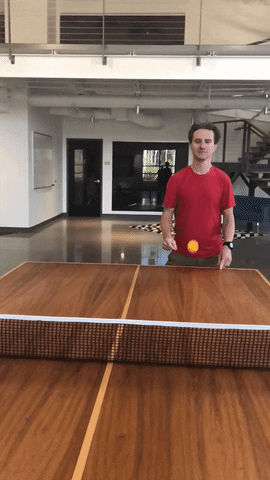 If you pinch it with your heels, it's called Dorothy just like how she clicks the heels of her ruby slippers in the Wizard of Oz.
With your thighs, it's called Suzanne Somers as it's a nod to her famous thigh master commercials
Between your shoulder and your chin, it's called Stradivarius after the insanely expensive violin.
Hand in the air, it's called Statue of Liberty just like our lady standing in New York City harbor.
If you pinch the ball together with your partner, it's called Friendship… which our account management team represents well in their hallway.
Pocket Sand is my favorite. It's a small workspace, near the window, that's a bit of a secret. During a heated ping pong match, a player will throw a handful of identical balls on the table, to confuse the opponents. It's necessary to yell, "Pocket Sand." It's a legendary bad-guy cheapshot…
And the weirdest of them all is named Team Beef, after a snowboarding grab called the roast beef.
Our version of it is where you pinch the ping pong ball from behind your partner's legs.
Every conference room has one of these pinches as its name… we even made a collection of t-shirts to commemorate.
That's the story of our weird internal joke, we've kept it going ever since. Sometimes the Best Places to Work are a bit quirky.